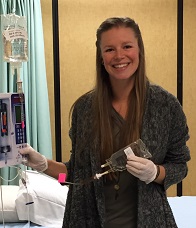 I am currently enrolled in full-time nursing studies at the University of British Columbia. I hold a BSc in Food, Nutrition and Health and am working towards completing my Bachelors of Science in Nursing. Through my previous undergraduate degree, I gained a large knowledge
base in health and nutrition. In my final year, I was given the chance to be part of a scale-up nutrition program in Rwanda for three months, directed by one of my UBC professors, and I couldn't resist applying my knowledge in a clinical manner. I was part of a team of students and health professionals teaching mothers about nutrition for their children, and how to use micronutrient supplements in complementary feeding. I felt honoured to have been selected to be part of the initiative and I cherish the opportunity I had to use my education to give back to the global community, but I couldn't help feeling that my efforts should be focused nearer to home. Since then, I have actualized my goal by entering the UBC nursing program.
I feel honoured to have received the Sharon Nield Memorial Award and want to thank the Canadian Nursing Foundation for their support. This is the first scholarship I have ever received and it means a lot to know I have the backing of your foundation as I pursue my career goal to provide exceptional health care.